We have been lucky to place our dogs with some outstanding people. Here is what they have to say about are dogs & puppies and our placement strategies.
JD,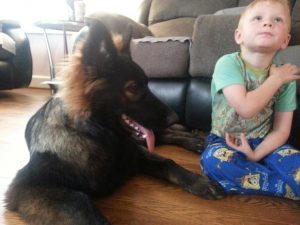 Thank you so very much for using your expertise to select our new family member. She is a perfect fit. Even though we have only had her a few days now, she has acclimated extremely well, has potty trained already to her "spot" outside (she even barked last night to wake us to take her to the door, did her business and came in straight after with no wandering and went back to sleep!), and has taken to all four of our children with a passion. She has already taken to our "school" schedule and makes the rounds to the bedrooms to help wake them. She is phenomenal! She learns extremely fast, maintains training (what little she has received) and enjoys whatever seems to satisfy out "pack". It has been an absolute pleasure to work with you through this entire process and we look forward to working with you in the future, as well as, keeping you informed with her growth and development. Thank you again for everything. -Korri Hendrickson – Deputy Sheriff, Greene County Tn.
| | |
| --- | --- |
| | JD, Todd and I can't thank you enough for giving us such an amazing kid. You have to experience this line of dog before you can truly express how amazing they are. I can't quite imagine our lives before Saxon. Sounds silly but it's true. He and Molly are so much a part of our everyday lives. Todd has desired this type of dog for a long time. We are so blessed to have Saxon and blessed that our paths met. Thank you again for all you do. God bless you and ALL your pups! Kim M |
Hi JD!
Monty is great! He is a real gem of a dog: sweet, quirky, smart, willing, and handsome. He and our old girl Emily get along like rotten peas in a pod. They are always up to somthing. She seems happier to have him around. We had him examined by a vet the Tuesday after we picked him up and he received a clean bill of health. We've been socializing him and he is making friends out and about. He loves riding in the car and his kiddie pool. He doesn't hesitate to plunge his entire head under the water! We are super pleased with the little guy. Alexia B
JD,

I want to thank you so very much for the two most perfect additions to my life. I adore them both, they are amazingly smart and no better picks could you have possibly been made, Im so very thankful!!!

Lauren
Hi JD,
I just wanted to update you on the puppy we purchased from you back in December. We named him Odin, and we just finished out first puppy obedience class and we are registered for the next. Our instructor is AKC certified, so we will work with her until he earns his Canine Good Citizen and then move on from there. At his 4 month vet check-up he weighed 52 lbs, and growing everyday. He is very good with everyone and everything, except the cats, but we are working on that and his is getting better everyday. I don't have a really good picture right now, but when I do I will post it for all to see. So very happy with him…thanks for everything.
Veronica T
JD, this dog is amazing. I took Loki out to work with the PD canines the other night. They were all shaking their heads saying "you have your hands full". Loki likes that stuff ALOT! I will shoot some pics next time I go out. He was going beserk…. Doug M
Thanks again JD for oden he has been such a geat addition to the family what a beast.
Jerry L D
Hi JD,

I wanted to touch base and let you know that my boy is doing excellent, he had his first bath here today and he did really good! I love everything about him, I have been working on building his confidence, he knows sit, plats, high five, and up. He is so smart and gentle! He sleeps under my bed, loves the snow (which is good, we just 6 inches and expected to get another 6-12). I got his papers and got him registered today. Hope you had a great evening and I will send pics tomorrow!
Erika M
I bought a black female from you about a year and a half ago. I just wanted you to know, she is doing fabulous. We have moved back to Alabama and she is almost completely free here. We have a large yard and we leave to door open and she has complete freedom to roam and play with the neighbor dogs.She has grown up wonderfully and is smart as a whip. Almost to smart hahah. Even if i close the door she can open it. She has also developed a passion for attacking bumblebees. It is quite funny watching her try to snap them out of the air. Anyways, just wanted to let you know she is doing great. Thank you so much for this lovely companion.

Chase C
JD – Strider by far is the best Germen Shepherd dog I have ever owned, what a great personality…Everyone says the same…He is a great dog…
Richard C
So, the trainer and I were having a comparison discussion….I mentioned to him I'm beginning to believe there really is a strong difference between the DDR and West Germans and males vs females. As you are well aware, I've always raised and trained male, West Germans. My last male was something to behold, he had nice drive, was smart and beautiful…my stunningly beautiful Ryka makes him appear amateur. I have to constantly TRY to be five steps ahead of her, she's that quick. She's a thinker….not that my males weren't, it's just that you can't coerce Ryka with a cookie…lol. If she wants water (not from the bowl Z slobbered in) she'll just figure out the faucet, she opens doors, drawers, cabinets…essentially whatever happens to strike her fancy at any given time. Then she just looks and me as if she's thinking….NEXT? She's been doing nose work for two months now, which is way above her pay grade. Catching frisbees mid air,  and of course her training is coming along very nicely. Her temperament is phenomenal for such a high drive dog…she's a sweetheart.So, to make a long story short, as I sing the praises of my gorgeous rocket girl, my trainer agrees, this little DDR girl has much better drive than any West German he's seen. (His family bred shepherds..FYI.) I've shown him pictures of Adalrick and Trac, you could see by his reaction, he was impressed with how exceptional they appear so don't be surprised if you begin to get more calls from this area. Trainers have a habit of suggesting breeders based on their experience with pups from a specific kennel. He's super impressed with Ryka and Z….as he should be.

😊  R Kaspar
Hi JD, just a quick note we had incident here last night someone tried to break in while I was not home. My wife said something was bothering Kila and the she just went nuts in front of the garage door she opened it and sent here in no hesitation straight to work. When I got home I found a pry bar and damage to the outside door. Theres no doubt she will follow through. Thank you so much again!!!!!!!

T Johnson