DDR East Line Female German Shepherds
Founding Line Females
Jade pictured to the right is the mom to Adala our pure black DDR East Line Female. Jade was a Big German Shepherd. Jade through Adala brings a very serious nature to our lines. She was one of the largest girls I have seen. She was a very thick and solid German Shepherd. A very civil bitch.
Adala like mom produces big kids with striking, brilliant markings and coloring.
Adala has an amazing temperament and once introduced you are ok to roam around. However, of all my dogs she is one of the most serious and is an Alpha Female Dog. She will not hesitate to protect her family once told.
She is sweet with kids and small dogs. She is very independent and is often roaming by herself on the back 80. She has days of energy, but when its time to relax she loves to hangout with her big brother Adalrick. She has had a dog go into highest level of military working dogs special teams & many protection dogs.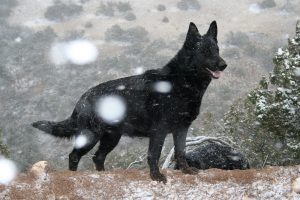 She does carry the coat gene and has and will produce some long hair German Shepherds.
Mia is a dark Sable. She is in fact the fastest GSD I have ever seen. If I didn't know better I would have to bet that she has some greyhound in her. Amazingly fast and will climb, jump or crawl through anything. She has amazing conformation, striking pigments and a real sweet personality. Will get very civil if you think of harming her pack.
Great old DDR Lines. Mia's Sire SG Ali von den Schwedenschanzen has a great thick body style and blocky square head, real square body style which gives our lines speed and agility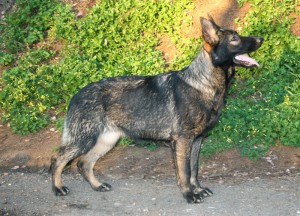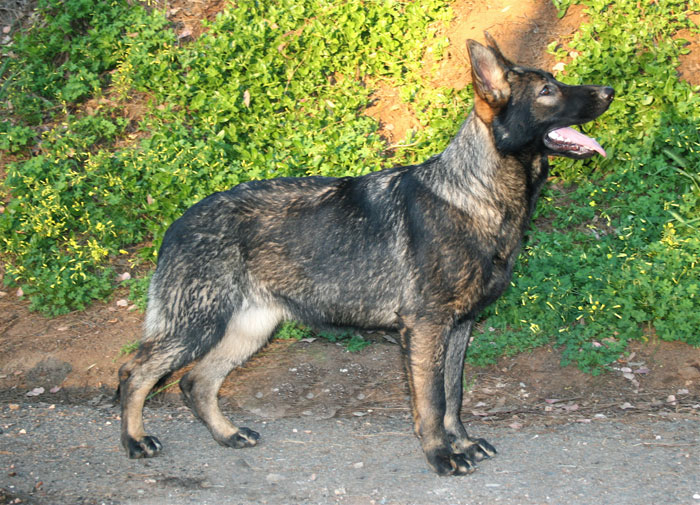 Ali's nerves are rock solid and he will bite for real. Ali had a very nice pedigree, sire is Henk von der Moschel SchH3 Kkl1, maternal grandsire is Tino Felsenschloss SchH3,FH2,IPO3 Kkl1, and going back to Don vom Rolandsteich, Filou vom Kaolinsee, Lord vom Gleisdreieck, and Ingo von Rudingen.
Ali is SG rated, SchH1, and Kkl1. Hips are certified "a" normal, elbows normal. He carries two normal copies of the gene associated with Degenerative Myelopathy (DM) N/N. According to the recent research on DM, no puppy sired by Ali will be at risk for developing degenerative myelopathy.

Carly Is as close as you get to a full DDR German Shepherd. Like her litter mate sister Shouldt above all of the lines down are DDR Dogs. Carly is a melanistic Bi-color.  She comes from a long line of very large German Shepherds.
She is a tough female. She has very high prey drives and deep defensive when pushed or called upon. She also exemplifies the best of the DDR traits.
As a coat she does throw from time to time some deep dark long coat shepherds.
Here's what our females bring forward to your new kid or partner: